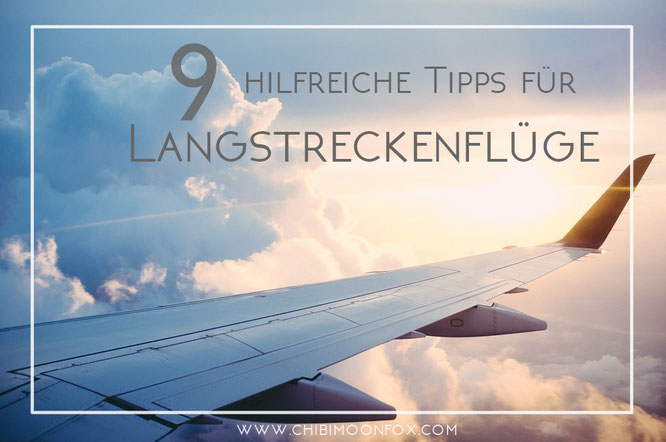 From December 2016 until January 2017 I went on a two weeks vacation to Japan with my husband, it was the first time for me going on a long-haul flight. I mean, I'm used to flying since I was 8 years old, but getting on a long flight is by far something entirely different! In my case, I had 14 upcoming hours of flight to Tokyo and also back to Germany and the main goal was, to survive them.
Today I will give you 9 first hand tips, which will help you to survive your long-haul flight:
1. Dress right

You will be on an airplane for a super long time, so choose loose and comfy clothes, the same goes for shoes - take ones, where you can get out easily and it makes sense to take slippers with you. If you have to deal with health issues when it comes to your legs, like I do, then definitely put on supportive stockings before the flight, trust me, it will save you from swollen, painful legs. Also remember to bring some layers for when it gets cold, believe me when I say you will feel it when it's -50°C outside of the airplane.
2. Bring your own pillow and eye mask
You will get a pillow and a blanket for free on board, but if you want to protect your neck from horrible pain during your flight, I can only recommend you to bring your own pillow with you. If you're flying during the day time it's also a good idea to bring an eye mask, as you may want to sleep while it's light outside. By the way you can easily get a set of a traveling pillow and eye mask on the internet - it's worth the investion.
3. Stay entertained

Nothing is worse than being on a long-haul flight without any entertainment. Make sure you stay entertained when you're not asleep! Most airlines offer you to watch movies, but I experienced, they have a very small selection of movies and depending on which Airline you take, you're not able to watch the movies in your native language. Therefor you should take a good book, or your Nintendo or what else you like with you to stay entertained during your flight. If you're flying with a friend or a family member, you can also easily take card games with you and play them.
4. Take high-quality earplugs with you
You won't believe how noisy an airplane and its passengers can get, so make sure you bring at least some high-quality earplugs with you, they will be your best friend during the flight. If you own noise-cancelling headphones, definitely make sure to take them with you!
5. Charge your devices

You won't be able to charge your devices on the plane, it's best to charge all of your devices before you start your long-haul flight. I can also recommend you to take a charged power bank with you, just in case.
6. Pack some extra snacks
During your long-haul flight you will of course get some meals, but let's be honest: airplane food isn't plentiful, not to talk about how bad it tastes on top. Make sure you take some extra snacks with you. During my flight to Tokyo, my extra snacks saved me, because I'm picky when it comes to food and just wasn't able to eat the one that I got from the Airline - so don't underestimate this point.
7. Stay hydrated

This is definitely one of the most important things, you won't believe how much the air conditioning of the airplane and the cold temperatures outside dries your skin. You have to drink, drink and drink during the flight - best is water! Also take a lip balm with you to nourish your lips, because they tend to dry out a lot and get painful cracked.
8. Stay hygienic

Make sure to bring a deodorant wipe, since you can't take deodorant cans in your carry-on. Other toiletries make sense too, as long as they're allowed for hand luggage.
9. Premium Economy seats
Maybe the most important advice I can give you: shell out for a Premium Economy seat. Premium Economy is the next upgrade from regular Economy seats, they're slightly a bit more expensive, but worth the money because of the benefits such as priority check-in and extra legroom - things you will be thankful for, trust me. During my flight to Tokyo and back my husband and I had regular Economy seats, so I know what I'm talking about - never ever again!
So these are my 9 useful tips how to survive a long-haul flight, there are a lot more left, maybe I will do a second one someday! I hope they will help you, when you're thinking of traveling to a destination which is far away from your home.
Have you ever been on a long flight? I really want to know, tell me in the comments below. :)