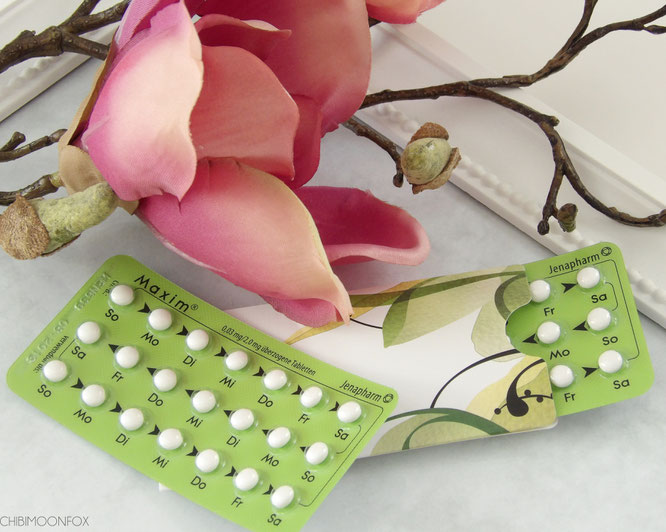 Hey everyone!
I hope you're all doing fine, I have only two weeks left until my summer holidays, I can't wait to slow down a bit, because there was a lot going on in my life in the last weeks, because of the birth control pill I was taking. Here's my story:
When it comes to preventing pregnancy, the birth control pill is the number one for women, since it's easy to get along with and being up to 99,9 % effective when taken correctly.
When I started taking the birth control pill 11 years ago, it was just for regulating my period, but then I met my husband and things got more serious, And at that time, the pill became most important for me.
But now, together with my husband, I made an important decision: I finally stopped taking the birth control pills.
When you talk of stop taking the pill and you're married, people usually think of 'Hey, they decided to have a Baby', but that's not the reason in my case. I didn't stopped taking the pill, because my husband and I want to grow a family, we're not at that point in our lifes yet. Unfortunately, the reason why I stopped taking it, is a sad life story of mine.
During the past 11 years, that I was taking the pill, I had to change the manufacturer four times.
I became Depressions from the first one really quick, so I already changed the manufacturer for the first time after a short time of two months. The second one I had was the one I took the longest time, I took it for about 9 years, until I stumbled upon many negative news about that one. When I heard that 17 women and girls died because of that pill, I was shocked and began to cry, because I took this pill for 9 long years. I went to my gynecologist the next day and insisted on taking an other pill and so I changed it again.
With the new manufacturer I was happy for quite a time, but six months ago, a nightmare started for me.
I always got super painful cramps, starting in the week before my period, but the cramps didn't disappeared once I got my menstruation, they kept going on, which means I was in pain for two weeks, then had a short time of two weeks where I was feeling great and then I was in pain again for two weeks.

It was like an ongoing nightmare for me and the cramps were so bad, that I wasn't able to go to work sometimes and cried nearly every day.
I kept going on like this for six months, until I had my check-up at my gynecologist about a month ago. I told him about my situation and he gave me a new manufacturer to try out for a month, to see if it gets better.
But with this pill, it got even more worse. All three weeks that I took the pill, I was in such a pain.

And this is why I decided one week ago, that I don't want to take the pill anymore. I can't do this to my body anymore - I don't want to do this to my body anymore.
Now that I reflect all the years, when I was taking the pill, I often think about, how dumb and blind I was, that I kept going on with these bad pills for so long. My body sent me signals and I ignored them all the time.
During the past 11 years, I had so many depressions, was in pain, got sick, had mood swings - all because of the birth control pill.
We all know about the bad side effects of the pill, but there's so much more unhealthy stuff hidden in there.
Now I know, that I'm very sensitive to hormones, that's the reason why I always had problems when I was taking the pill. I have hypothyroidism, so I'm used to taking hormones and when it comes to hypothyroidism, the pills I'm taking for it help me a lot to feel energized through the day, they make me feel better.
The next months will be full of changes for my body, I know that. Because taking hormones for such a long time leaves traces and my body needs to learn how to deal without those hormones again. Maybe I will get more pimples and other stuff then before, but I don't care, because I know, that I finally live healthier again. I appreciate my body the way it is and my husband does, too.
I'm curious for the next chapter in my life, I can finally be happy again. I can finally be painless again. I can finally be me again.
Some of you may not find this post interesting, but it was very important for me to share my story with you, because there are other women in the world, who may have made the same bad experiences with the birth control pill like I did. With this post, I want to sensitize others - preventing a pregnancy with the pill is great, but always keep in mind, what it can cost you and your body.
Did you make any experiences like I did? What do you think of birth control pills?
Let me know in the comments below, I'm really curious about your opinion!
Thank you for reading! And the next blog post will be full of happiness again, I promise. ;)