Hey everyone!
I'm finally back with a super interesting blog post for you. It's September which means, fall is finally here! I must say fall is my favourite season of the year, I just love it, when the leaves start changing colours and the days are getting colder.
But fall is also known for Harvest Festivals, the time of the year where we celebrate a good selection of foods all over the world.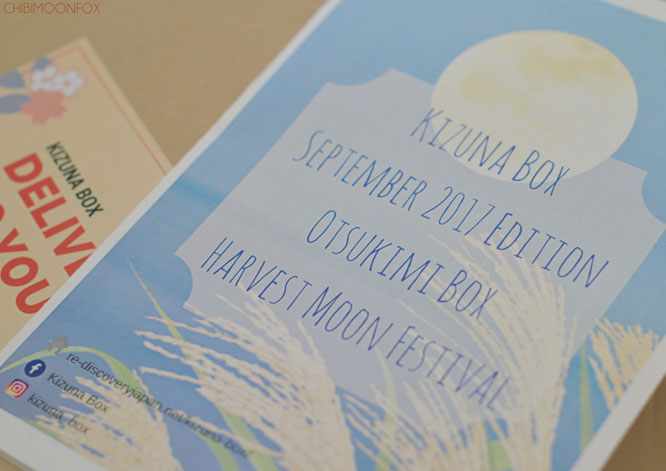 In today's blog post, I want to introduce you to Kizuna Box, a Japanese monthly subscription box.
I came across this box in July and I immediatley was interested in their Lifestyle Box! Kizuna Box was so kind and sent me their September box, the 'Otsukimi Box' for free, so I can do an unboxing and review on it. But let me tell you, that all of the following points are my true opinion.
I will tell you more about Kizuna Box at the end of this post.
So September's theme is 'Otsukimi' (お月見) which is the Japanese Harvest Moon Festival. And while it's celebrated on September the 15th every year, it happened that my Kizuna Box arrived on exactly this day - what a coincidence!
Otsukimi can be translated into "moon-viewing", people gather together to appreciate the moon, which is believed to be the brightest and the most beautiful in this time of the year.
And since rabbits are according to a folk tale from a Buddhist legend, this box is filled with rabbit themed items. Rabbits are also a symbol of good luck, representing prosperity - what a luck, that I own Simba, my dwarf rabbit! :)
But now, let me finally show you what I got in this box: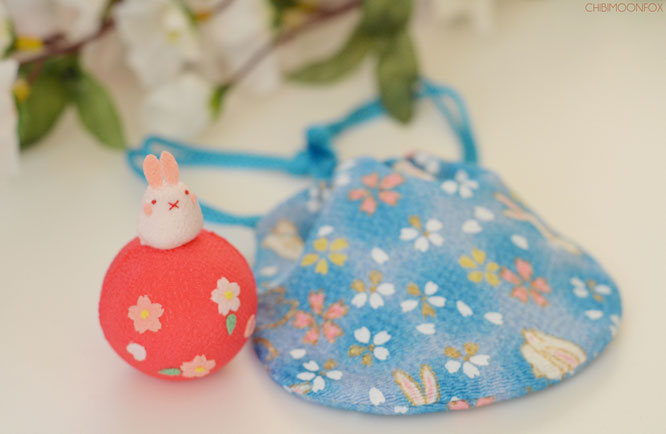 Rabbit Roly-poly Toy Doll (おきあがりこぼし)
These dools are handmade in Kyoto, so everyone is unique! They are there to encourage people to get up and keep trying, no matter how many times they got knocked down.
Rabbit & Sakura Small Drawstring Bag (巾着)
This cute, small drawstring bag comes in black, red or blue and is handmade in Kyoto, too. I got the blue one and it's so convenient, since you can use it for coins or to carry small accessories with you. I can't wait to use it for my next vacation, to put all my jewelry in there!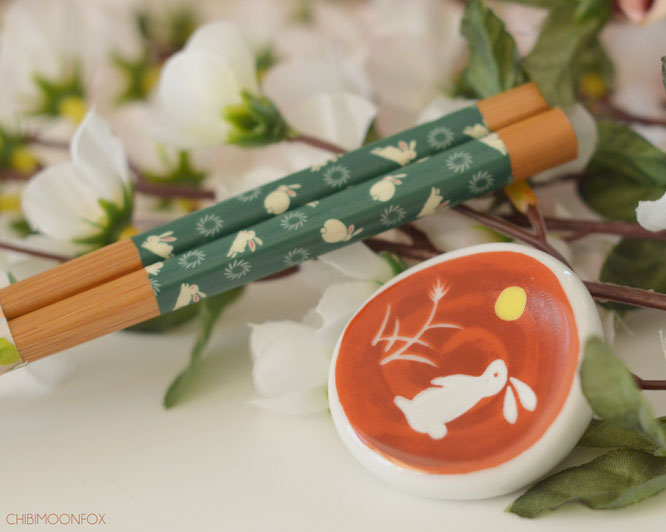 Rabbit Chopsticks (ウサギ箸)
You also get a pair of super cute rabbit chopsticks in this box. I can't wait to use them and they complement my little chopsticks collection perfectly! They are produced in the Fukui Prefecture by Ishida Co. Ltd., a chopsticks manufacturing company with more than 80 years of history.
Mino-yaki Rabbit Chopstick Rest (箸置き)
Mino-yaki is Japan's most popular pottery, its history is said to date back to 1300 years ago. You'll get a cute rabbit chopsticks rest in either blue or red, which illustrates a rabbit watching the bright moon next to some pampas grass. I got the red one and since it's so cute, I wish I would own the blue one for my husband, too.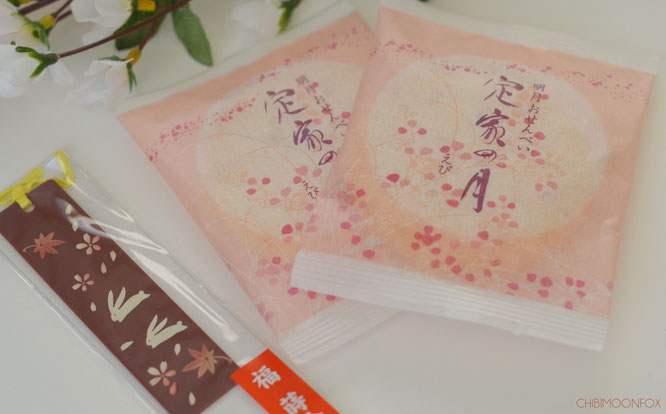 Rabbit Makie Bookmark (ブックマーク)
I'm so happy about this bookmark, because I always wanted a nice one from Japan and now I got it! Makie is a thousand-year old technique of lacquerware decoration, in which designs are made by laying metal powders including gold and silver on the lacquerware using a special brush. This bookmark has a cute rabbit design, complemented with metallic shimmering sakura blossoms and Japanese maple leaves.
Teika no Tsuki Rice Crackers (テイカの月ライスクラッカー)
You will also get a cute snack in Otsukimis box, two pieces of rice crackers, which look really tasty! Unfortunately they contain shrimps, which I don't like, so I will give them to my parents to try next time when I visit them.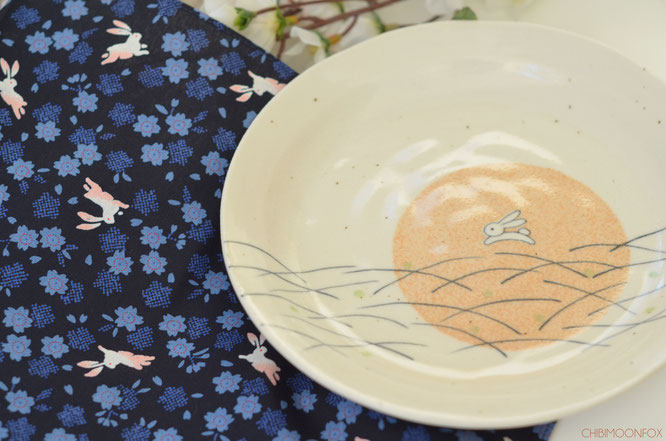 Rabbit & Sakura Furoshiki (ふろしき)
If you read my previous posts, you already know, that I'm a big lover of furoshiki. They're so convenient to take with you and always have a high quality and nice designs. No wonder, I was obsessed with this furoshiki at first glance - rabbits and sakura? Yes, please! And it has such a great quality, I love it! This furoshiki comes in either red or blue and they're from the Osaka Apparel Cooperative.
Mino-yaki Rabbit & The Moon Ceramic Plate (セラミック板)
This item is the heart of the box, I would say. It's a beautiful ceramic plate - the pattern illustrates a rabbit jumping forward over a pampas grass (ススキ) field, with the full moon in the background. By the way, pampas grass is an iconic decoration item for the festival, which is the reason, why you find it on other items in this box, too.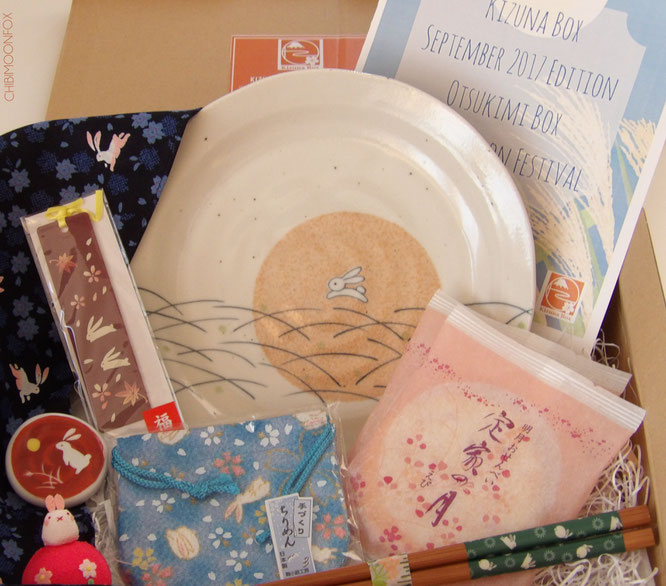 Here's an overview to all the items, which came in September's 'Otsukimi Box'.
You get 8 items in total for a retail price of $70. I was stunned by every single item and think, that the Kizuna Box team did a really great job on this one. You can clearly see, that everything is well thought-out and coordinated, the rabbit themed items are perfect for a rabbit owner like me and since I'm a moon lover, I'm even more obsessed with the items!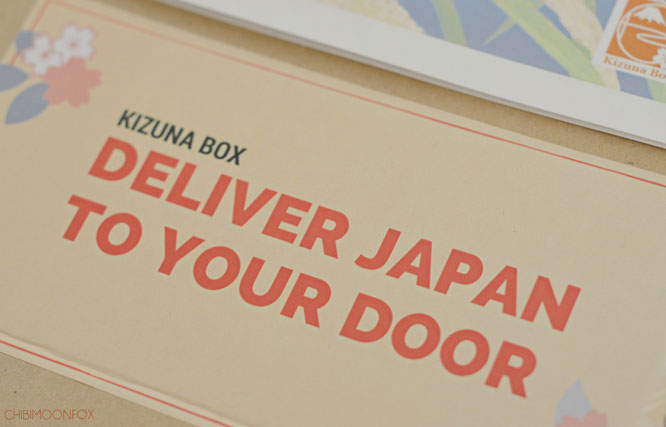 Now I would like to tell you a little bit more about Kizuna Box.
Kizuna Box is a monthly subscription box, which is based in Tokyo, Japan. 'Kizuna' is a Japanese word that means the bonds between people.
You can choose between two subscription boxes, the Kizuna Lifestyle Box and the Kizuna Snack Box.
Kizuna Lifestyle Box: contains 6-8 high-quality Japanese goodies, including ceramics, cloths, stationery, snacks and so on.
The subscription plan is:
Monthly: $34.99/month
3-Month-Plan: $33.99/month
6-Month-Plan:32.49/month
Kizuna Snack Box: contains 13-16 artisanal, traditional and limited edition Japanese snack and beverage items coupled with one or two cultural and lifestyle items.
The subscription plan is:
Monthly: $29.99/month
3-Month-Plan: $28.99/month
6-Month-Plan: $27.49/month
I can absolutely recommend you to check Kizuna Box out, the prices are more than reasonable for the items you get. I absolutely enjoyed unboxing this beautiful lifestyle subscription box and want to thank the Kizuna Box team for giving me the opportunity to review their box for free.
Once I've moved into our new apartment, I will definitely subscribe to Kizuna Box! :)
Please show the Team some love and check out their Instagram and Facebook (linked down below), too!
Thank you so much for reading and see you next time!