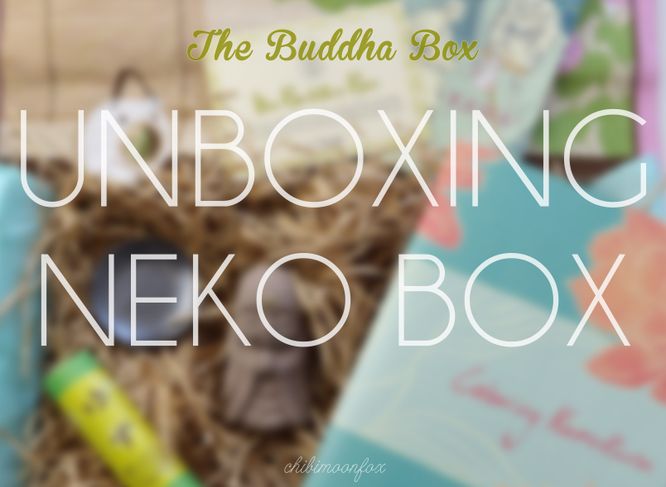 Hey guys,
I came across Neko Box about half a year ago and always wanted to subscribe to their monthly subscription box, but never did, because my husband and I bought a car and I sweared not to get anything else for a month.
But in April I finally subscribed for the April's box and when it arrived this week, I was so happy and I immediately opened it. So today I will show you what's in the box and tell you about everything that's included. :)
When I saw the package, I just thought 'oh wow, that looks so unique', I mean, of course I knew how the package looked like because of their Instagram and Facebook, but it feels special when you hold it in your own hands.
These are the following items, which are included in April's box, themed as 'The Buddha Box':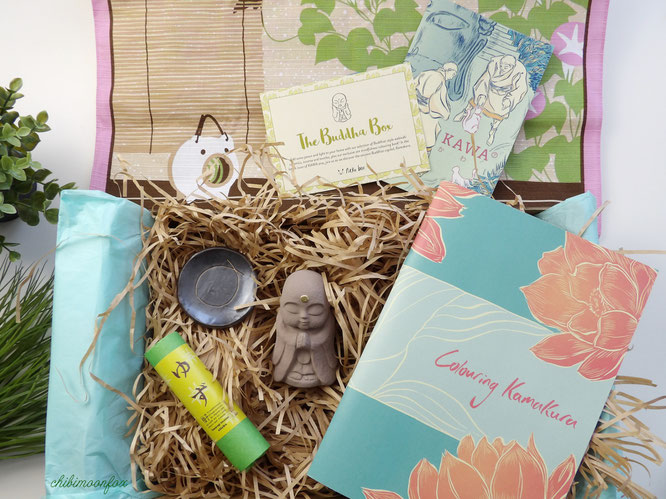 Setoyaki Ceramic Buddha (地蔵)
This bodhisattva are found all over Japan, I've seen so many bigger ones on my own when I was in Japan and I really liked them, so I'm very happy that I got my own one now at home. They're there to protect travelers, children and anyone who's in need of help.
Furoshiki (風呂敷)
Furoshiki are traditional wrapping cloths from Japan, they're very practical since you can use them in a lot different ways. With this one, I own two now and I love to pack stuff in there for traveling, but it's also perfect to wrap gifts in it. This furoshiki comes in a peaceful zen summer print and I'm absolutely in love with it!
Kamakura Zen Coloring Book
Something I really enjoy in this box is the coloring book, I like coloring books and already own one with Japanese motives, but this one has its very own unique style and of course it's all Buddha themed and takes you around Kamakura, a city known for its many Zen Buddhist temples and the 大仏 (Daibutsu or 'The Big Buddha') at Kōtoku-in, a Buddhist temple.
Buddhist Incense Dish
The Buddhist incense dish, which comes in this box, embodies the spirit of wabisabi (侘寂), it's closely connected with the Zen Buddhism and is meant to find beauty in the imperfection. It's used as a decoration or to hold incense.
Yuzu Incense
You will find Yuzu Incense at Buddhist temples in Japan, it's said, if you waft the smoke onto any parts you want to heal, they get healed. I also waved a lot of smoke towards my nose and breathed it deeply in, because it's also a tradition Japanese people do to heal their body from the inside too. This one came in the variety 'Japanese citrus fruit', which is perfect for me, since I love citrus scents.
KAWA Zine Issue 6
The KAWA Zine is always included in the subscription boxes of Neko Box, this time it shows you all around Kamakura. I already read the whole little magazine within a few minutes, because I can never stop reading about spots in Japan and I just like small informative books like this one, because I educate myself more and more and learn new things.
So, that's all April's box has to offer, I'm very happy with my first Neko Box, because everything is handmade in Japan and looks so beautiful. If you want to experience this unique subscription box on your own, go and visit Neko Box, they offer a new box every month, you always have to subscribe before the 21st of the month to get your box in the upcoming month, directly shipped from the land of the rising sun. I can't wait for my next box to arrive and of course I will do another unboxing then. If you're a Japan lover like me, you will definitely enjoy Neko Box a lot! :)
Are you subscribed to a monthly box? I really want to know!
Thanks for reading and have a nice day! ;)