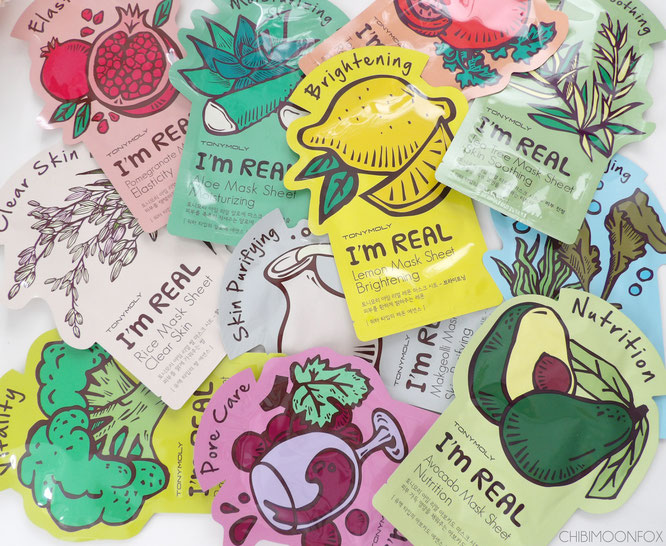 Hey everyone!
So I own 11 of the I'm Real Sheet Masks by TONYMOLY for a while now and thought it would be time for a review on them!
It's not a secret that Korea is well-known for its great Makeup and Skincare products and we also know that Korean Skincare products are going viral all over the world right now. But let's be honest, who can resist those promising sheet masks with the unique and cute designs? Well, I can't so I ordered the mask set on the internet.
I want to show you, which ones I got!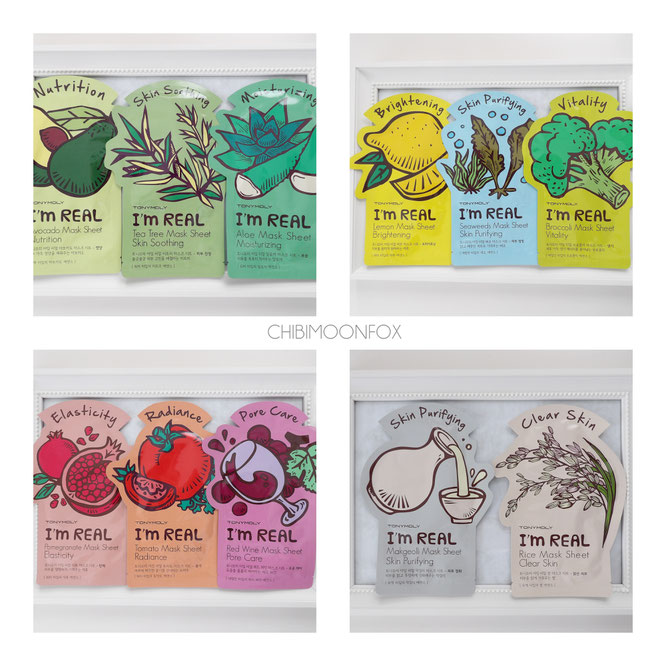 The set comes with 11 sheet masks for different skin needs:
Avocado for Nutrition
Tea Tree for Skin Soothing
Aloe for Moisturizing
Lemon for Brightening
Seaweeds for Skin Purifying
Broccoli for Vitality
Pomegranate for Elasticity
Tomato for Radiance
Red Wine for Pore Care
Makgeolli for Skin Purifying
Rice for Clear Skin
I must say I never used sheet masks before, because I somehow always leaned on the traditional clay masks for my special skincare days. But after my Japan vacation I got more and more interested in J- and K-Beauty and wanted to start with something 'light' in this section.
I decided to go with the trend and ordered the mask set on Amazon, they weren't available there for a long time, but then I was lucky and got them!
The sheet masks are made of natural pulp and are fully soaked in a nourishing liquid, which helps you to get the effect of what your skin needs. They smell very decent and fresh and not heavy, so it really gives you kind of a spa feeling when you leave them on your face.
So how are you supposed to use these masks?
It's super easy, just wash your face and dry it with a towel, then put on the sheet mask on your face and leave it there for about 20-30 minutes.
After that time, you're supposed to leave the remaining "mask juice" on your skin, but I don't like the feeling when I leave it like that on my skin, so I dab carefully with a towel over my face, to leave just a bit of it, so it doesn't feel too wet.
For me, the masks are perfect for hot summer days, when your skin feels irritated and needs some extra skincare. Because the sheets are all soaked, they have a cooling effect on your face which is super nice! And if you want to, you can put them in the fridge for an extra cooling effect!
Even my husband got interested in those masks and so he tried the Red Wine mask, we were both happy with the results. The skin feels so refreshed afterwards and super soft. I have sensitive skin, but the ingredients didn't irritated my skin at all.
Thinking about the price, you can't go wrong with these masks. For all 11 masks I paid around
14 € on Amazon, such a nice deal. Definitely recommend you to try them out, if you haven't yet!
I'm really looking forward to try out some more J- and K-Beauty products in the future!
Do you own any TONYMOLY products? Are you into Asian beauty products, too?
Let me know in the comments below!
Thank you for reading and see you next time! :)